Southwest Georgia Chapter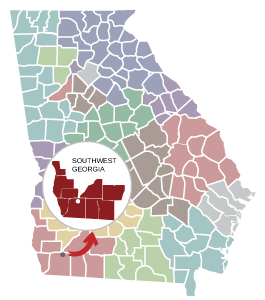 Southwest Georgia Chapter Counties
Clay
Colquitt
Decatur
Early
Grady
Miller
Mitchell
Seminole
Thomas
2019-2020 Chapter Officers
President:
Tom Hoyt
229-226-8320
Vice President:
Roy Long
229-227-5884
Secretary/Treasurer:
Ashley Gardner
229-246-1511
Meetings
Please refer to the newsletters for more information and to register for the Southwest Georgia Chapter meetings.
Click on a meeting below to register:
(No upcoming meetings found)
Local Events
Review the current Federal individual income tax laws and examine updates of new tax forms, changes to existing tax forms, as well as tax planning opportunities and pitfalls. Get up-to-speed quickly and have a successful Federal individual income...
Learn the importance of creating Data Models to facilitate your financial reporting processes and how you can use Power Pivot to assist in summarizing your data quickly and easily into compelling and interactive statements. Also, discover how to...
Explore the tax information and not-for-profit organization issues to be mastered when adequately preparing the current Form 990. Cover the numerous reporting demands the 990 imposes, including how to respond to the Form's demands for narrative...