Southwest Georgia Chapter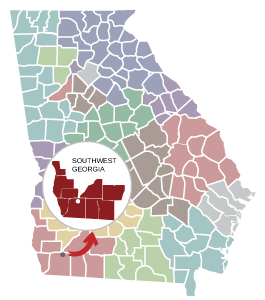 Southwest Georgia Chapter Counties
Clay
Colquitt
Decatur
Early
Grady
Miller
Mitchell
Seminole
Thomas
2019-2020 Chapter Officers
President:
Tom Hoyt
229-226-8320
Vice President:
Roy Long
229-227-5884
Secretary/Treasurer:
Ashley Gardner
229-246-1511
Meetings
Please refer to the newsletters for more information and to register for the Southwest Georgia Chapter meetings.
Click on a meeting below to register:
(No upcoming meetings found)
Local Events
It has become exceedingly difficult for business people, professionals, and other individuals to conduct their affairs withoutexposure to the hazards of litigation and creditors. There are many methods by which individuals with significant assets...
Strengthen your abilities as a controller and help your management team understand current economic issues through the latest trends in accounting, finance, human resources, treasury management, and business systems. Discuss leading-edge topics...
This comprehensive training is designed to get the accountant up to speed quickly with the complex passive activity loss (PAL) rules that apply to certain investments in trades or businesses and rental activities. The cornerstone of the course is...