Southwest Georgia Chapter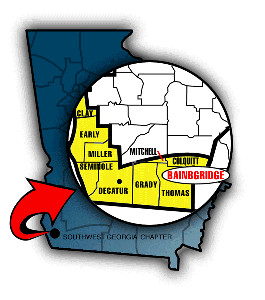 Southwest Georgia Chapter Counties
Clay
Colquitt
Decatur
Early
Grady
Miller
Mitchell
Seminole
Thomas
2017-2018 Chapter Officers
Meetings
Please refer to the newsletters for more information and to register for the Southwest Georgia Chapter meetings.
Click on a meeting below to register:
(No upcoming meetings found)
New Members
Are you a new student, fellow or associate member of the Southwest Georgia Chapter? If so, please call our chapter contact so we can welcome you!
Southwest Georgia Chapter Contact

: Tom Hoyt

229-226-8320
Local Events
Discuss the auditor's responsibilities related to financial statement fraud and information relevant to management's responsibility for fraud and internal controls. Cases address revenue recognition, various financial statement manipulations,...

Live Stream: Enhancing Audit Quality: Best Practices in Documenting and Reviewing Your Work

-

8/24/2018 -

Examine tips and techniques for effective and efficient review of audit workpapers, the success of which heavily depends on an auditor's proper application of critical financial statement audit concepts. There is a presumption that more...
The IRS estimates 10 million taxpayers will be affected by this new 20% deduction under section 199A and on August 8, 2018, they released proposed regulations [REG 107892-18] covering the 20% deduction. These regulations answer many questions not...