Albany Chapter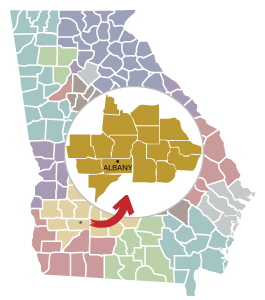 Albany Chapter Counties
Baker
Ben Hill
Calhoun
Coffee
Colquitt
Crisp
Dooly
Dougherty
Irwin
Lee
Macon
Marion
Mitchell
Pulaski
Randolph
Schley
Sumter
Terrell
Tift
Turner
Webster
Wilcox
Worth
2019-2020 Chapter Officers
President:
Ben Glass
229-883-7878
Vice President:
Rob Douglas
229-446-3600
Secretary:
Misty Williamson
229-883-7878
Treasurer:
Cam Tompkins
229-446-3600
Meetings
The Albany Chapter meets several times a year and varies between lunch meetings and socials.
Click on a meeting below to register:
(No upcoming events found)
New Members
Are you a new student, fellow or associate member of the Albany Chapter? If so, please call our chapter contact so we can welcome you!
Albany Chapter Contact

:

Ben Glass

229-883-7878
Local Events
Slashing Taxes for Your Small Business Clients: Corporations, Partnerships, and LLCs**

-

11/22/2019 - Albany

Solid tax planning strategies are essential for your corporate and small business clients. Explore state-of-the-art planning ideas and tax-saving strategies to keep more of your client's money in their pockets. Answer tough questions and review...
Two things you can count on are important new tax developments and economic, social, and demographic trends that turn out to have important tax implications. Explore the hottest tax planning topics that will impact you and your clients. These are...
Discuss relevant pronouncements, exposure drafts, and other guidance recently issued in the accounting, auditing, review, compilation, and preparation engagement arenas. Sort through the complexities and identify and apply recently issued FASB,...