North Atlanta Chapter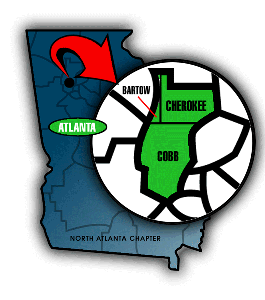 North Atlanta Chapter Counties
2018-2019 Chapter Officers
President:
Roderick Williams
229-338-2470
Vice President:
Linda Kamisher
404-835-0454
Secretary:
Kendra Jenkins
404-835-0454
Treasurer:
Sarah Watson
404-835-0454
Meetings
The North Atlanta Chapter meets on the third Thursday of every month at the DoubleTree hotel on Windy Hill Road. Registration begins at 5:30 p.m.
There is a general charge for members and nonmembers.
The registration deadline is usually on the Tuesday before the meeting by 6 p.m. unless otherwise stated in the newsletter.
Click on a meeting to register:
New Members
Are you a new student, fellow or associate member of the North Atlanta Chapter? If so, please call our chapter contact so we can welcome you!
North Atlanta Georgia Chapter Contact

:

Roderick Williams

229-338-2470
Local Events
Analytics is the new force driving business. Tools have been created to measure program impacts and ROI, visualize data and business processes, and uncover the relationship between key performance indicators, many utilizing the unprecedented...

Surgent's Comprehensive Guide to Tax Depreciation, Expensing, and Property Transactions

-

11/16/2018 - Atlanta

Seemingly every year, economic stimulus packages drastically change depreciation rules. Receive an updated, in-depth analysis of the complex maze of rules dealing with depreciation, amortization, and sale of property, with an emphasis on...
Recently, the IRS has dramatically ramped-up its examination of specific individuals and small business taxpayers. Learn the high audit risk areas and ways to help clients survive an IRS audit with little or no change. It is critical for CPAs in...