North Atlanta Chapter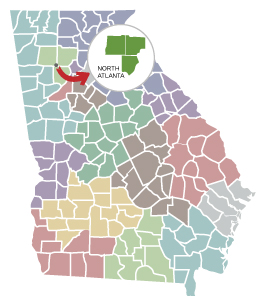 North Atlanta Chapter Counties
2018-2019 Chapter Officers
President:
Roderick Williams
229-338-2470
Vice President:
Linda Kamisher
404-835-0454
Secretary:
Kendra Jenkins
404-835-0454
Treasurer:
Sarah Watson
404-835-0454
Meetings
The North Atlanta Chapter meets on the third Thursday of every month at the DoubleTree hotel on Windy Hill Road. Registration begins at 5:30 p.m.
There is a general charge for members and nonmembers.
The registration deadline is usually on the Tuesday before the meeting by 6 p.m. unless otherwise stated in the newsletter.
Click on a meeting to register:
(No upcoming meetings found)
New Members
Are you a new student, fellow or associate member of the North Atlanta Chapter? If so, please call our chapter contact so we can welcome you!
North Atlanta Georgia Chapter Contact

:

Roderick Williams

229-338-2470
Local Events
A growing array of tools – ranging from Excel add-ins to dedicated solutions such as Power BI – now allow you to leverage your existing knowledge and skills to create powerful, interactive dashboards and analyses unthinkable until recently. Learn...
To properly implement the new financial reporting model professionals must have a strong, working knowledge of the new requirements. Discuss the new requirements and explore how they manifest themselves in the financial statements, and clarifies...

The Essential Course for Performing Single Audits Under the Uniform Guidance for Federal Awards (YB)

-

9/25/2019 - Atlanta

Applying one set of auditing standards is tough. Applying three sets of auditing standards is really tough. However, this is precisely what the auditor does in applying GAAS, the Yellow Book, and the OMB requirements to a single audit. Equip...