North Atlanta Chapter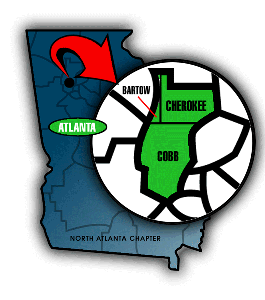 North Atlanta Chapter Counties
2017-2018 Chapter Officers
Meetings
The North Atlanta Chapter meets on the third Thursday of every month at the DoubleTree hotel on Windy Hill Road. Registration begins at 5:30 p.m.
There is a general charge for members and nonmembers.
The registration deadline is usually on the Tuesday before the meeting by 6 p.m. unless otherwise stated in the newsletter.
Click on a meeting to register:
(No upcoming meetings found)
New Members
Are you a new student, fellow or associate member of the North Atlanta Chapter? If so, please call our chapter contact so we can welcome you!
North Atlanta Georgia Chapter Contact

: Ralph Knight

770-421-8307
Local Events
Passage of the Tax Cuts and Jobs Act in December 2017 brings the most sweeping changes in the tax code for individuals and businesses in 30 years. The 2018 Tax Reform Conference will make you aware of the most recent changes and how to...
Discuss existing and new rules and regulations unique to employee benefit plans, as well as practical guidance on their application. The most common compliance issues identified in 401(k) audits will be explored along with recommended...
Designed for experienced reviewers who want to heighten their peer review skills, material includes analysis of the latest AICPA Peer Review Program Standards, as well as the areas of peer review guidance reviewers find the most problematic.