Imagine marketing your business to thousands of the top accounting and finance professionals in the state of Georgia. When you market with The Georgia Society of CPAs that is exactly what you will be doing! With the support from companies like yours, we will fulfill our core purpose and deliver amazing value to our members.
There are several ways to partner with The Georgia Society of CPAs and to connect with our members. We encourage you to look at these opportunities, and let us know what will present the most value to you and your company.
Ways to Connect With Our Members
We have 25 conferences throughout the year with unique sponsorship and exhibit opportunities. These conferences provide a unique opportunity to network with our members in person and begin a strong business relationship.
Each conference focuses on a specific area of practice within the accounting profession so no matter who you are trying to reach, there is definitely a fit! We also offer several different advertising options.
Whether you are looking to advertise a new product or service line, raise awareness about your business solutions or looking to promote a sponsorship with The Georgia Society of CPAs, we have an advertising solution for you.


Benefits of Sponsoring or Exhibiting:

Company listing in all marketing material for conferences (subject to deadlines)
A full printed list of attendees (no electronic copies provided)
Mailing labels for a one time mailing
Option to promote your company through giveaways at the conferences
Unique sponsorship offerings that allow for maximum exposure to the attendees
Benefits of Advertising:

Advertising your business and solutions to 12,000 members
Endorsing new products and services to a targeted audience
Promoting your exhibit or sponsorship for a GSCPA conference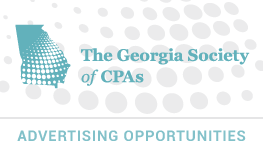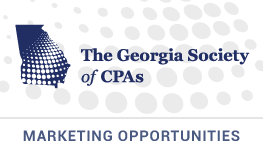 If you have any questions or need further information, please contact
Emily Smith at 404-504-2947.