Valdosta Chapter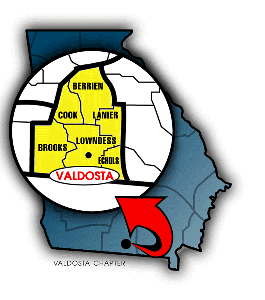 Valdosta Chapter Counties
Atkinson
Berrien
Brooks
Clinch
Coffee
Cook
Echols
Lanier
Lowndes
2017-2018 Chapter Officers
President:
Kyle Baxter
229-630-4784
Vice President:
Billie Baxter
229-251-8131
Secretary/Treasurer
Joanna Tanner
229-244-1559
Meetings
The Valdosta Chapter meets every third Tuesday at 12 p.m. at the Valdosta Country Club unless otherwise noted. Please check the chapter newsletter for more details. The cost to attend is $20 for chapter members and $25 for nonmembers. Students who RSVP in advance can attend the meetings for free.
Click on a meeting below to register:
(No upcoming meetings found)
New Members
Are you a new student, fellow or associate member of the Valdosta Chapter? If so, please call our chapter contact so we can welcome you!
Valdosta Chapter Contact

: Kyle Baxter

229-630-4784
Local Events
Annual Update and Practice Issues for Preparation, Compilation and Review Engagements**

-

11/13/2018 - Tifton

A go-to reference for training staff and managing your preparation, compilation, and review engagements, ensure compliance with all professional standards surrounding engagements performed in accordance with Statements on Standards for Accounting...
Review best practices for designing, implementing, monitoring, evaluating, and auditing cost-effective internal controls for small- and medium- sized entities. Receive practical guidance in adapting the 2013 COSO Internal Control - Integrated...
Examine how major frauds are perpetrated, including real-world examples, and the types of cost-effective controls that can be implemented by small and large businesses and nonprofit entities to identify and prevent these deceptive acts. Business...