Heart of Georgia Chapter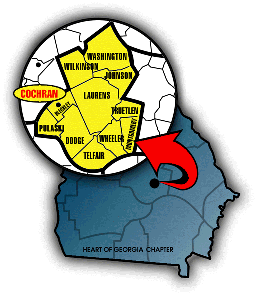 Heart of Georgia Chapter Counties
Appling
Bleckley
Dodge
Jeff Davis
Johnson
Laurens
Montgomery
Pulaski
Telfair
Truetlen
Washington
Wheeler
Wilkinson
2018-2019 Chapter Officers
President:
Josh Gardner
478-272-2030

Vice President:
Jake Sheffield
478-272-1344

Secretary/Treasurer:
Jenny Nash
478-275-1163
Meetings
Please continue to check the website for updated meeting information.
Click on a meeting below to register:
(No upcoming meetings found)
Local Events
Explore ways to provide additional quality services for your middle-income clients; content updated for developments relative to potential estate tax repeal, and the implications for planning.

Slashing Taxes for Your Small Business Clients: Corporations, Partnerships, & LLCs**

-

10/30/2018 - Tifton

Solid tax planning strategies are essential for your corporate and small business clients. Explore state-of-the-art planning ideas and tax-saving strategies to keep more of your client's money in their pockets. Answer tough questions and see what...
Review relevant pronouncements, exposure drafts, and other guidance recently issued in the accounting, auditing, review, compilation, and preparation engagement arenas. Sort through the complexities to identify and apply recently issued FASB,...