Augusta Chapter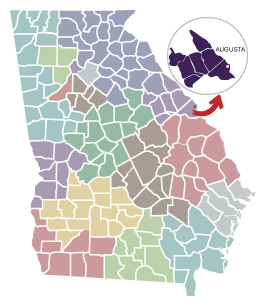 Augusta Chapter Counties
Burke
Columbia
Glascock
Jefferson
Lincoln
McDuffie
Richmond

Taliaferro

Warren
Washington
2019-2020 Chapter Officers
President
John Snider
706-722-5337
Vice President
Heather Fulmer
706-724-2063
Secretary
David B. Ussery
706-722-5337
Treasurer
Jack Crawford
706-724-3557
Meetings
The Augusta Chapter generally holds regular lunch meetings on the third Thursday of the month at 11:30 a.m. at the Marbury Center at 1257 Broad Street in Augusta.
Please refer to your monthly newsletters for more details.
Click on a meeting below to register:
(No upcoming meetings found)
New Members
Are you a new student, fellow or associate member of the Augusta Chapter? If so, please call our chapter contact so we can welcome you!
Augusta Chapter Contact
:
John Snider
706-722-5337
Local Events
Strengthen your abilities as a controller and help your management team understand current economic issues through the latest trends in accounting, finance, human resources, treasury management, and business systems. Discuss leading-edge topics...
Receive a comprehensive review of recent standard-setting activities of the FASB and AICPA. Discuss Topic 606 in-depth and receive updates on recently issued FASB and AICPA standards with hands-on examples and illustrations to help you apply the...

Compilations, Review, and Preparations: Engagement Performance and Annual Update

-

11/13/2020 - Augusta

Receive a comprehensive review and hands-on application for performing financial statement preparation, compilation and review engagements. Learn the ins and outs of SSARS No. 21, Clarification and Recodification. Cover the changes that have...