Augusta Chapter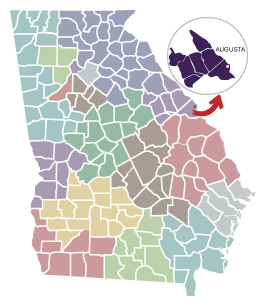 Augusta Chapter Counties
Burke
Columbia
Glascock
Jefferson
Lincoln
McDuffie
Richmond

Taliaferro

Warren
Washington
2018-2019 Chapter Officers
President
Jennifer Whatley
706-724-2063
Vice President
John Snider
706-722-5337
Secretary
Heather Fulmer
706-724-2063
Treasurer
David B. Ussery
706-722-5337
Chapter Council Rep.
Beth Morrison
Meetings
The Augusta Chapter generally holds regular lunch meetings on the third Thursday of the month at 11:30 a.m. at the Marbury Center at 1257 Broad Street in Augusta.
Please refer to your monthly newsletters for more details.
Click on a meeting below to register:
New Members
Are you a new student, fellow or associate member of the Augusta Chapter? If so, please call our chapter contact so we can welcome you!
Augusta Chapter Contact

:

Jennifer Whatley

706-725-2063
Local Events
Spend the day hearing from and discussing issues with GSCPA member leadership and staff. Share your valued thoughts, opinions and experiences with Society leaders. In addition, meet and network with other GSCPA members to help grow your...
More and more, businesses turn to you for advice on financial performance. Review financial statements as a set of dynamic instruments that can be used for accurate, relevant, and timely financial decisions. Focus on economic and financial...
Analytics is the new force driving business. Tools have been created to measure program impacts and ROI, visualize data and business processes, and uncover the relationship between key performance indicators, many utilizing the unprecedented...