Augusta Chapter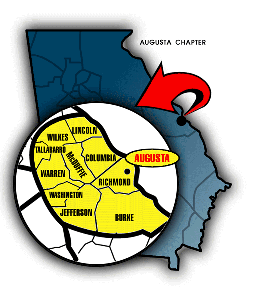 Augusta Chapter Counties
Burke
Columbia
Glascock
Jefferson
Lincoln
McDuffie
Richmond

Taliaferro

Warren
Washington
2018-2019 Chapter Officers
President
Jennifer Whatley
706-724-2063
Vice President
John Snider
706-722-5337
Secretary
Heather Fulmer
706-724-2063
Treasurer
David B. Ussery
706-722-5337
Chapter Council Rep.
Beth Morrison
Meetings
The Augusta Chapter generally holds regular lunch meetings on the third Thursday of the month at 11:30 a.m. at the Marbury Center at 1257 Broad Street in Augusta.
Please refer to your monthly newsletters for more details.
Click on a meeting below to register:
(No upcoming meetings found)
New Members
Are you a new student, fellow or associate member of the Augusta Chapter? If so, please call our chapter contact so we can welcome you!
Augusta Chapter Contact

:

Jennifer Whatley

706-725-2063
Local Events
Cyber threats come in all shapes, sizes, complexity and are ever-evolving. Learn how to keep abreast of the latest cybersecurity trends, manage risks, and ensure the right level of governance to safeguard your organization. There is not a simple...
Review relevant pronouncements, exposure drafts, and other guidance recently issued in the accounting, auditing, review, compilation, and preparation engagement arenas. Sort through the complexities to identify and apply recently issued FASB,...
Through an interactive case study environment, receive the necessary tools to go beyond theory and create value-added services for your clients. Examine, evaluate, and perform case studies enhancing your working knowledge of fundamental...