Northeast Georgia Chapter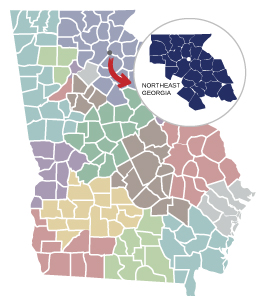 Northeast Chapter Counties
Banks
Barrow
Clark
Dawson
Elbert
Fanin
Forsyth
Franklin
Gilmer
Greene
Habersham
Hall
Hart
Jackson
Jasper
Lumpkin
Madison
Morgan
Oconee
Oglethorpe
Pickens
Rabun
Stephens
Taliaferro
Towns
Union
Walton
White
Wilkes
Meetings
The Northeast Georgia Chapter alternates meeting locations between Athens and Gainesville. Meetings begin at 6 p.m. with social time, followed by dinner and one hour of CPE. The cost for members to attend is $25.
Click on a meeting below to register:
(No upcoming meetings found)
Local Events
Spend the day hearing from and discussing issues with GSCPA member leadership and staff. Share your valued thoughts, opinions and experiences with Society leaders. In addition, meet and network with other GSCPA members to help grow your...

Annual Update: Top Governmental and Not-for-Profit Accounting and Issues Facing CPAs (YB)**

-

7/17/2019 - Athens

Preparers of governmental and nonprofit financial statements and their auditors often seek advice from the AICPA's Technical Hotline as well as from the GASB Technical Inquiry System. The advice they receive from these sources is high-quality and...
Strengthen your abilities as a controller and help your management team understand current economic issues through the latest trends in accounting, finance, human resources, treasury management, and business systems. Discuss leading-edge topics...