Northeast Georgia Chapter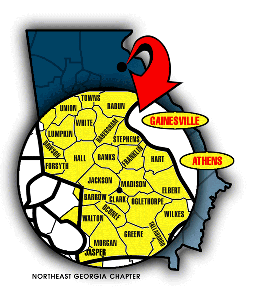 Northeast Chapter Counties
Banks
Barrow
Clark
Dawson
Elbert
Fanin
Forsyth
Franklin
Gilmer
Greene
Habersham
Hall
Hart
Jackson
Jasper
Lumpkin
Madison
Morgan
Oconee
Oglethorpe
Pickens
Rabun
Stephens
Taliaferro
Towns
Union
Walton
White
Wilkes
Meetings
The Northeast Georgia Chapter alternates meeting locations between Athens and Gainesville. Meetings begin at 6 p.m. with social time, followed by dinner and one hour of CPE. The cost for members to attend is $25.
Click on a meeting below to register:
Local Events
Review an excellent baseline of information as it relates to understanding Government Auditing Standards, including the foundation of government auditing and the related concepts and standards. It is essential all auditors planning and conducting...

Annual Update and Practice Issues for Preparation, Compilation and Review Engagements**

-

11/13/2018 - Athens

A go-to reference for training staff and managing your preparation, compilation, and review engagements, ensure compliance with all professional standards surrounding engagements performed in accordance with Statements on Standards for Accounting...
This course covers the significant provisions of the most recent pronouncements and proposed pronouncements from the FASB, the Private Company Council, the Auditing Standards Board and the Accounting and Review Services Committee. The course is...