Southwest Georgia Chapter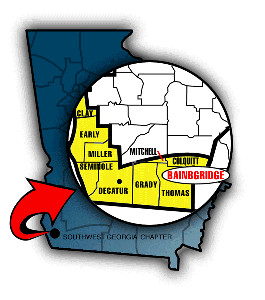 Southwest Georgia Chapter Counties
Clay
Colquitt
Decatur
Early
Grady
Miller
Mitchell
Seminole
Thomas
2017-2018 Chapter Officers
Meetings
Please refer to the newsletters for more information and to register for the Southwest Georgia Chapter meetings.
Click on a meeting below to register:
(No upcoming meetings found)
New Members
Are you a new student, fellow or associate member of the Southwest Georgia Chapter? If so, please call our chapter contact so we can welcome you!
Southwest Georgia Chapter Contact

: Tom Hoyt

229-226-8320
Local Events
Live Stream: Controller and Financial Professional Series Part 3: Leadership Skills for the Accounting and Finance Professional (NEW)

-

12/12/2017 -

While nearly 8 years have passed since the Great Recession, economic and political uncertainty have continued to plague business decision-making. The roles and responsibilities of CPAs and finance professionals, meanwhile, has continued to...
In this course, we review current year developments and planning ideas affecting individual, corporate and business income taxation using a combination of humor and examples. We will emphasize all major new tax legislation as well as other...
There are multiple common threads between championship football teams and peak performance organizations. Many of the high-impact strategies of America's most successful football coaches can be adapted by CPAs to improve an organization's...