Southwest Georgia Chapter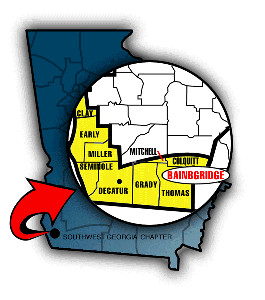 Southwest Georgia Chapter Counties
Clay
Colquitt
Decatur
Early
Grady
Miller
Mitchell
Seminole
Thomas
2017-2018 Chapter Officers
Meetings
Please refer to the newsletters for more information and to register for the Southwest Georgia Chapter meetings.
Click on a meeting below to register:
(No upcoming meetings found)
New Members
Are you a new student, fellow or associate member of the Southwest Georgia Chapter? If so, please call our chapter contact so we can welcome you!
Southwest Georgia Chapter Contact

: Tom Hoyt

229-226-8320
Local Events
Receive an update on the new accounting, auditing, compilation and review standards, as well as other professional guidance that impact small businesses and their auditors. Materials include practical applications of the topics covered to help...
Due to changes in both the economy and the Internal Revenue Code, fringe benefit planning has become one of the most important areas of planning for your client's business and personal needs. There are a variety of tools and techniques to meet a...
Finding appropriate solutions to a client's estate issues upon his/her death are critical to many areas, including the estate tax return of the decedent, the decedent's final income tax return, the income tax return of the estate of the decedent,...