Columbus Chapter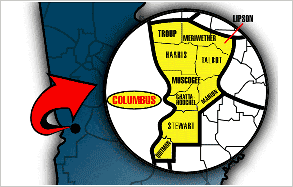 Columbus Chapter Counties
Chattahoochee
Harris
Marion
Meriwether
Muscogee
Quitman
Stewart
Talbot
Taylor
Troup
Webster
2018-2019 Chapter Officers
President:
David Payne
706-324-5435
Vice President:
Michael Gallagher
706-324-5435
Secretary/Treasurer:
Heather Gilbert
706-494-9630
Meetings
The Columbus Chapter holds lunch meetings from September through January, and in May on the third Wednesday of each month at 12 p.m. at the Country Club of Columbus unless otherwise noted in the newsletter. Cost per meeting (including meal) is $20 for members.
Click on a meeting to register:
(No upcoming meetings found)
New Members
Are you a new student, fellow or associate member of the Columbus Chapter? If so, please call our chapter contact so we can welcome you!
Columbus Chapter Contact

:

David Payne


706-324-5435
Local Events
Review relevant pronouncements, exposure drafts, and other guidance recently issued in the accounting, auditing, review, compilation, and preparation engagement arenas. Sort through the complexities to identify and apply recently issued FASB,...
Each year brings its own set of tax planning challenges, and this year is no exception. Receive planning strategies and ideas that wealthy clients, middle-income clients, and closely held business owners need to consider right now to take...
Review the most important legislative and regulatory developments of the season, as well as major trends and changes in the case law. Included is full coverage of all tax implications with a view toward planning. The coming year promises plenty...