Coastal Georgia Chapter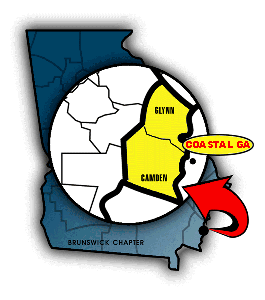 Coastal Georgia Chapter Counties
Bacon
Brantley
Charloton
Camden
Glynn
Pierce
Ware
Wayne
2018-2019 Chapter Officers
President
Wanda DeLeo
912-279-5885
Vice President
Sherrie Hodges
912-265-1750
Secretary/Treasurer
Taylor Hinson
912-638-9031
Meetings
The Coastal Georgia meets twice a month. The first Tuesday of each month, the chapter meets at Golden Corral for A&A, and at the end of the month, the chapter meets at various locations. Please check the newsletter for more details.
Click on a meeting below to register:
New Members
Are you a new student, fellow or associate member of the Coastal Georgia Chapter? If so, please call our chapter contact so we can welcome you!
Coastal Georgia Chapter Contact

:

Wanda DeLeo

912-279-5885
Local Events
Learn invaluable knowledge, strategies, techniques, innovative tax-planning concepts, income-generating ideas, and other planning opportunities available to S corporations, partnerships, LLCs, and LLPs. Continually updated for developments....

Financial Statement Disclosures: A Guide for Small and Medium-Sized Businesses

-

7/23/2018 - Jekyll Island

Focus on key balance sheet and income statement disclosure, as well as those relating to adoption of new accounting standards such as Topic 606, accounting policies, changes in accounting estimates and errors, subsequent events, going concern,...
Get up-to-speed on the latest in individual tax law developments and the corresponding or responsive planning opportunities available to your clients. Educate your individual tax clients and implement tax-savings ideas that will serve their...