Southwest Georgia Chapter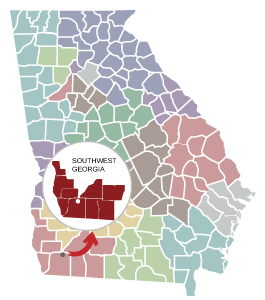 Southwest Georgia Chapter Counties
Clay
Colquitt
Decatur
Early
Grady
Miller
Mitchell
Seminole
Thomas
2019-2020 Chapter Officers
President:
Tom Hoyt
229-226-8320
Vice President:
Roy Long
229-227-5884
Secretary/Treasurer:
Ashley Gardner
229-246-1511
Meetings
Please refer to the newsletters for more information and to register for the Southwest Georgia Chapter meetings.
Click on a meeting below to register:
(No upcoming meetings found)
Local Events
Review the GASB standards coming down the pike, including significant projects of the GASB. When considering the audit side of the house, Yellow Book and Single Audit engagements are considered must-select engagements for peer review. Cover the...
TOPICS> Restaurant and Hospitality 2023 Outlook> Industry Tax Update> Craft Beverage Lending 101 > Financial Reporting for Hotels and Hospitality Groups> Your Craft Business Road Map: Financial Planning and Reporting> Legal...

Live Stream: Gaining a Competitive Advantage: Critical Skills for CFOs and Controllers

-

5/17/2023 - Live Stream

All organizations are looking for ways to gain an advantage over the competition. This practical and interactive session will present a toolkit of ideas to help CFOs, controllers and finance professionals better position their organizations for...