North Atlanta Chapter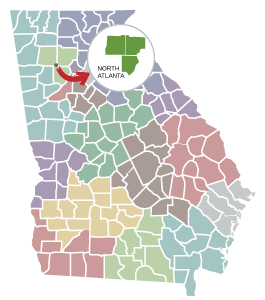 North Atlanta Chapter Counties
2021-2022 Chapter Officers
President:
Kevin Cross
678-387-1801
Vice President:
Henry Onwumbiko
770-943-0600
Secretary:
Chichi Okechukwu
404-452-7836
Treasurer:
Tammy Galvis
770-422-0598
Meetings
The North Atlanta Chapter meets on the third Thursday of every month at the DoubleTree hotel on Windy Hill Road. Registration begins at 5:30 p.m.
There is a general charge for members and nonmembers.
The registration deadline is usually on the Tuesday before the meeting by 6 p.m. unless otherwise stated in the newsletter.
Click on a upcoming meeting to register:
(No upcoming meetings found)
New Members
Are you a new student, fellow or associate member of the North Atlanta Chapter? If so, please call our chapter contact so we can welcome you!
North Atlanta Georgia Chapter Contact

:

Kevin Cross

678-387-1801
Local Events
Discover new strategies and techniques to assist you in working with clients and accounting principles impacting the reporting of real estate development, operations and sales.TOPICS> How to Become True Leaders in Diversity Initiatives>...
Explore the risk assessment process in-depth, along with best practices and pitfalls to avoid as we continue to navigate through all of the changes impacting employee benefit plans. Identify best practices for handling specific issues that arise...
Understand how to develop capital budgets in a growing company environment and gain new ideas for managing your organization's working capital. Explore how to better prepare for an uncertain future, minimize risk, and perform your month-end...