Northeast Georgia Chapter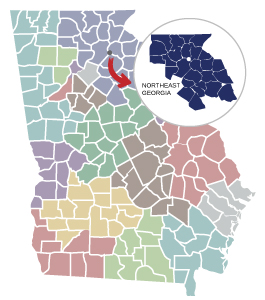 Northeast Chapter Counties
Banks
Barrow
Clark
Dawson
Elbert
Fanin
Forsyth
Franklin
Gilmer
Greene
Habersham
Hall
Hart
Jackson
Jasper
Lumpkin
Madison
Morgan
Oconee
Oglethorpe
Pickens
Rabun
Stephens
Taliaferro
Towns
Union
Walton
White
Wilkes
2022-2023 Chapter Officers
President
Sara Ogden
770-532-9131
Vice President
William Harris
770-287-7800
Secretary/Treasurer
Christina Page
770-287-7800
Meetings
The Northeast Georgia Chapter alternates meeting locations between Athens and Gainesville. Meetings begin at 6 p.m. with social time, followed by dinner and one hour of CPE. The cost for members to attend is $25.
Click on a meeting below to register:
New Members
Are you a new student, fellow or associate member of the Northeast Georgia Chapter? If so, please call our chapter contact so we can welcome you!
Northeast Georgia Chapter Contact:
Sara Ogden
770-532-9131
Local Events
Keep abreast of the fast-paced changes in accounting and auditing. Explore relevant pronouncements, exposure drafts and other guidance recently issued in the accounting, auditing, review, compilation and preparation engagement arenas. Sort...
Cover the significant provisions of the most recent and proposed pronouncements from the FASB, the Private Company Council, the Auditing Standards Board and the Accounting and Review Services Committee. Discuss the standards in the instructor's...
Examine best practices of leading-edge controllers and CFOs. Demonstrate advanced skills that add value and contribute to the organization's success. Learn specific skills every CFO or controller needs to succeed, and you will suddenly have more...