Member Monday Spotlight: Charlie Barmore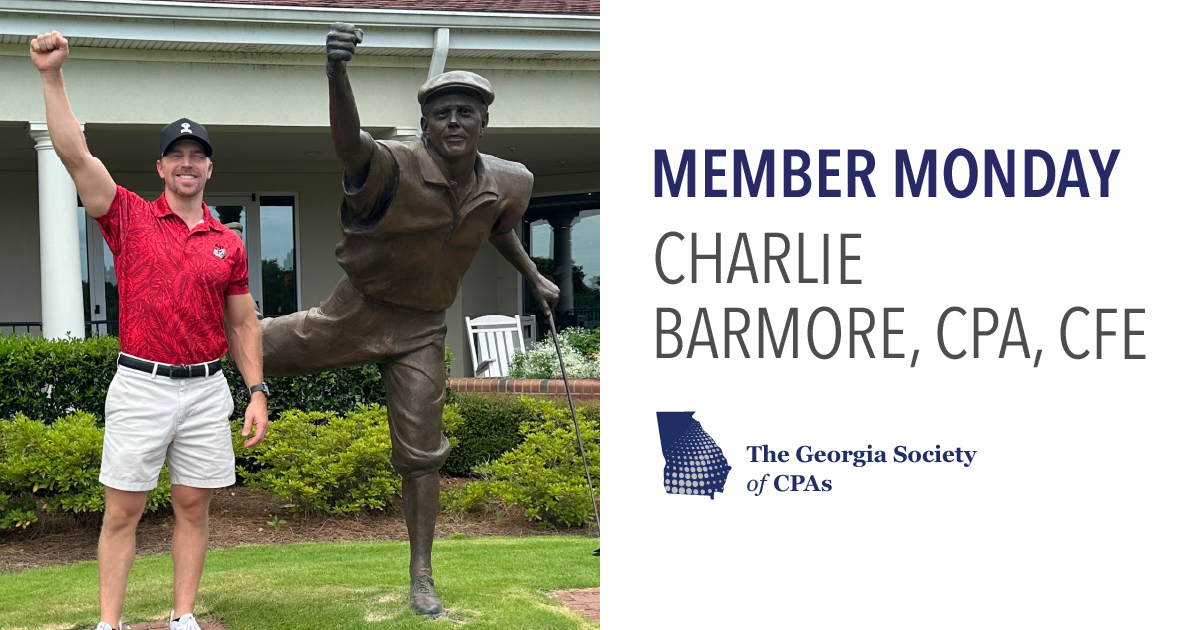 Charlie graduated from the University of Georgia with his bachelor's degree in 2015, then he obtained his Masters in Accounting in 2016. He lives in Evans, GA with his wife and two kids. When he isn't working on numbers, he enjoys working with leather and wood. He makes leather wallets, bags, belts, purses etc. and he likes to make things out of wood such as tables and other furniture items. He also enjoys working out and any type of physical activity and is an avid golfer.
He is passionate about his family and his community. He enjoys spending time with his family and getting out and about in the community, meeting new and different people. Charlie has been a member of GSCPA for 5 years and has served on the Young CPAs Advisory Council. He is also a member of the Columbia County Chamber of Commerce and tries to attend as many events that he can.
He decided to pursue the CPA profession because his father is a CPA and runs his own public accounting firm. He has always enjoyed math and solving problems, so accounting seemed to be the logical path. He really enjoys the challenging aspects of accounting and working with others to solve complex problems. To him, having your CPA designation signifies professionalism, hard work, and persistence.
For those who are about to complete their CPA Exam, he would say hunker down and finish the drill (Go Dawgs) and that by having your CPA license, a lot of doors will open for you. Reach out to as many people that you can to explore all of your options – this is where being a member of the GSCPA comes in handy. There are many paths a CPA can take and you've earned the right to explore all of them to determine the best path for yourself that allows you to be the best version of yourself, both professionally and individually.
For those who are about to start taking the CPA exams, he would say get organized and commit yourself - you may have to forgo other activities that you normally do, but it is only temporary, and the end reward is well worth the sacrifice. Set deadlines for yourself and hold yourself accountable to those deadlines. Develop a plan for each exam and figure out the best way to adhere to that plan. You may not know what the best way is right away but adjust as you go and figure out what works best for you, and not necessarily what worked for someone else.