GSCPA Presents 2015 Public Service Award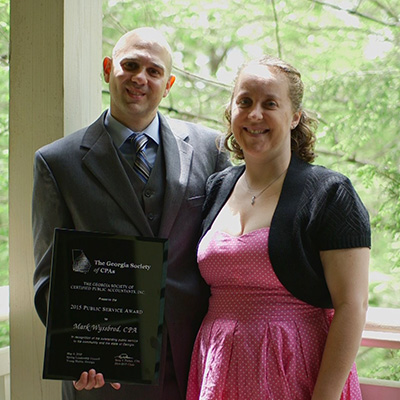 The Georgia Society recently awarded the 2015 Public Service Award to Mark Wyssbrod, CPA at the 2015 Spring Leadership Council meeting. The award recognizes a GSCPA member who has made significant contributions in public service activities at the local, state, regional or national level.
A long-standing GSCPA member, Mark is an award-winning professional who regularly gives back to his community. Mark has been honored as a Small Business Person of Excellence in 2012 and 2013 by the Greater North Fulton Chamber of Commerce.
He has been recognized by Atlanta magazine as a Five Star Wealth Professional for six years in a row, and he was the 2013 Greater North Fulton Chamber of Commerce Small Business Person of the Year. Mark also reached the pinnacle of scouting by earning and becoming an Eagle Scout. The scout motto, "be prepared" and volunteering have significantly shaped his life.
As a CPA, Mark has a successful business history due to being a visionary. A graduate from the University of Kentucky, he has founded many business ventures, including the award-winning Pro@ctive CPA. Being "proactive" has been the foundation of his success.
Most recently, Mark sold his tax firm in order to increase his time with his family and community. As an outstanding CPA and GSCPA member, we are honored to present the 2015 Public Service award to Mark Wyssbrod.
Nominate a GSCPA member for the Public Service Award