North Perimeter Chapter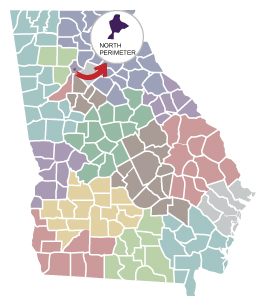 North Perimeter Chapter Counties
Meetings
The North Perimeter Chapter holds dinner meetings on the third Tuesday of the month at 5:30 p.m. at the DoubleTree Atlanta Perimeter Dunwoody. Registration begins at 5 p.m. The meeting cost, including meal, is $35 for members, $15 for student members, and $40 for nonmembers.
Directions: DoubleTree Atlanta Perimeter Dunwoody is located at 4386 Chamblee Dunwoody Rd, Atlanta, GA 30341. It is located just south of I-285 off the Chamblee Dunwoody exit in the North Perimeter area of metro Atlanta. Head south from Chamblee Dunwoody exit 30 off I-285 and the hotel entrance will be on your right just past the Texaco gas station on Chamblee Dunwoody Rd at the East Bound I-285 exit ramp.
Click on a meeting to register:
(No upcoming meetings found)
Local Events
Reinforce your understanding of frequently used principles and receive a wealth of tax-planning tips and strategies. Learn how to apply the latest changes when preparing federal income tax returns and advise clients on new developments and...
Which FASB ASUs become effective in the next year and beyond? How should the new guidance be applied? Address GAAP financial accounting and reporting topics in conjunction with an overview of recent FASB pronouncements. Utilizing detailed...
Most CPAs have been preparing individual income tax returns for years, and while many of the returns are easy, there are always a number of issues that come up in busy season of which experienced practitioners wish they had more knowledge. This...