North Perimeter Chapter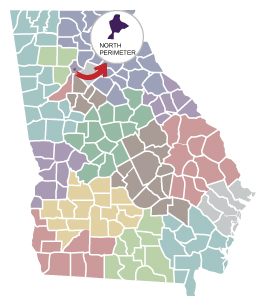 North Perimeter Chapter Counties
Meetings
The North Perimeter Chapter holds dinner meetings on the third Tuesday of the month at 5:30 p.m. at the DoubleTree Atlanta Perimeter Dunwoody. Registration begins at 5 p.m. The meeting cost, including meal, is $35 for members, $15 for student members, and $40 for nonmembers.
Directions: DoubleTree Atlanta Perimeter Dunwoody is located at 4386 Chamblee Dunwoody Rd, Atlanta, GA 30341. It is located just south of I-285 off the Chamblee Dunwoody exit in the North Perimeter area of metro Atlanta. Head south from Chamblee Dunwoody exit 30 off I-285 and the hotel entrance will be on your right just past the Texaco gas station on Chamblee Dunwoody Rd at the East Bound I-285 exit ramp.
Click on a meeting to register:
(No upcoming meetings found)
Local Events
This highly informative course comprehensively covers all the latest tax law developments. The focus is on individual taxation and discussion of the planning opportunities practitioners need to understand to help clients respond effectively. You...
Learn critical advanced Excel skills in six key areas: collaborating with other users and securing workbooks; using tables to analyze and report data; integrating and manipulating data from external sources; creating and...

Jim Martin's 2019 Preparation, Compilation and Review (SSARS) Update for the Local Firm

-

11/14/2019 - Atlanta

Take an in-depth look at issues practitioners have with implementing clarified SSARS section 70 "Preparation of Financial Statements," clarified SSARS section 80 "Compilation Engagements," and clarified SSARS section 90 "Review of Financial...