North Perimeter Chapter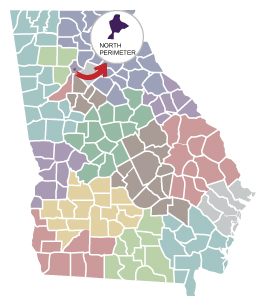 North Perimeter Chapter Counties
Meetings
The North Perimeter Chapter holds dinner meetings on the third Tuesday of the month at 5:30 p.m. at the DoubleTree Atlanta Perimeter Dunwoody. Registration begins at 5 p.m. The meeting cost, including meal, is $35 for members, $15 for student members, and $40 for nonmembers.
Directions: DoubleTree Atlanta Perimeter Dunwoody is located at 4386 Chamblee Dunwoody Rd, Atlanta, GA 30341. It is located just south of I-285 off the Chamblee Dunwoody exit in the North Perimeter area of metro Atlanta. Head south from Chamblee Dunwoody exit 30 off I-285 and the hotel entrance will be on your right just past the Texaco gas station on Chamblee Dunwoody Rd at the East Bound I-285 exit ramp.
Click on a meeting to register:
(No upcoming meetings found)
Local Events
Spend the day hearing from and discussing issues with GSCPA member leadership and staff. Share your valued thoughts, opinions and experiences with Society leaders. In addition, meet and network with other GSCPA members to help grow your...
Discuss common errors practitioners make on pass through tax returns often missed by review staff. Sharpen skills by examining case studies and discussing issues where additional information from the client may be warranted and areas of tax law...
Need to get up-to-speed on the latest tax issues facing individuals, small business and corporations? This class has it all! One thing is for certain, there is always constant change in taxation. Let our experts simplify the...