North Perimeter Chapter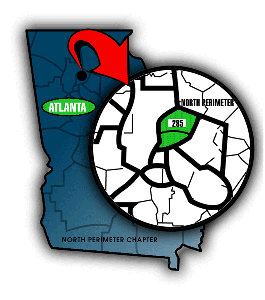 North Perimeter Chapter Counties
2017-2018 Chapter Officers
Meetings
The North Perimeter Chapter holds dinner meetings on the third Tuesday of the month at 5:30 p.m. at the Marriott Perimeter. Registration begins at 5 p.m. The meeting cost, including meal, is $35 for members, $15 for student members, and $40 for nonmembers.
Directions: Marriott Perimeter is located at 246 Perimeter Center Parkway, NE, Atlanta near Perimeter Mall. Heading north from Ashford-Dunwoody and I-285 go to Hammond Drive and turn left, then go to Perimeter Center Parkway, NE and turn left. Go about 2/10 of a mile, make a U-turn, the Marriott will be on the right. There is no charge for parking.
Click on a meeting to register:
New Members
Are you a new student, fellow or associate member of the North Perimeter Chapter? If so, please call our chapter contact so we can welcome you!
North Perimeter Chapter Contact

: Richard Collins
Local Events
Becoming an AICPA Peer Review Team or Review Captain: Case Study Application**

-

7/17/2018 - Atlanta

Examine realistic case studies that encompass the most important elements of a system peer review, as well as several case studies pertaining to an engagement review. As a current or future team and/or review captain, learn to successfully plan...
Explore ways to provide additional quality services for your middle-income clients; content updated for developments relative to potential estate tax repeal, and the implications for planning.
The 2018 Technology Conference is one of the largest technology conferences for CPAs. K2 leaders provide attendees with tools that can be immediately put into practice. Longer sessions allow for a deeper dive into practical application of the...