What Practitioners Should be Aware of Regarding the TCJA (Tax Cut and Jobs Act-H.R. 1)
December 28, 2017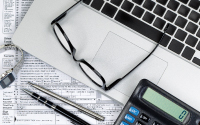 by Art Auerbach, CPA

For use when engaging in long-term planning for clients. I have limited the article to items with differing beginning dates, ending dates, or effective dates. This article does not take into account how the federal changes affect the various state and local returns.

Practitioners should note the effective dates of each provision and the termination dates of other provisions. Not everything begins on January 1, 2018 and not everything ends on December 31, 2027.

What follows are some illustrations of things to be aware of.

The corporate tax rate reduction and most of the corporate provisions are examples of the few provisions that are actually permanent, even beyond the ten years of the Bill. Beginning in 2018 there is not a special rate for personal service corporations. Many of the individual provisions are in the statute for only eight years, including the individual rates and the repeal of personal exemptions. New withholding tables are going to be issued by the Internal Revenue Service that will be effective for February 1, 2018; but a provision in the Act allows the use of the current withholding tables for the balance of 2018. This will be the choice of the employer.

Congress has decided that any entity with less that $25 million in gross receipts is "small business," thus allowing the use of the cash method of accounting. Any business currently under that gross receipts number may switch to the cash method. This will be considered a change in method of accounting and it remains to be seen if it will be considered automatic or approval will be needed from the Service. This change will be permitted, since inventory may be treated as non-incidental material and supplies. Taxpayers will get the choice of either inventory or non-incidental materials and supplies to conform to their financial accounting treatment. This election will then avoid a Schedule M-1 adjustment. Taxpayers falling under this gross receipts number will also be exempt from the UNICAP inventory rules.

Additionally, the estate tax increased exclusion to $10 million dollars is there for only eight years, beginning with 2018. The generation skipping transfer tax was not specifically mentioned, but since it tied to the basic exclusion, it should also receive the increased exemption amount. The gift tax remains unchanged.

The Kiddie Tax has been modified. For tax years beginning after December 31, 2017, the taxable income of a child attributable to earned income is taxed at the same rate that applies to individuals. The taxable income of the child attributable to unearned income will be taxed using the rate tables applicable to fiduciary returns, thus reaching the top 37% bracket at much less income.

Mortgage interest deduction on Form 1040, has a grandfather date of December 15, 2017. Thus any mortgage that was there on that date retains to old mortgage rules of $1 million per taxpayer (if unmarried) and the $100,000 for home equity loans. After that date the deduction is limited to interest on new loans up to $750,000. Refinancing gets to be grandfathered but only to the extent of the balance of the loan being replaced.

Medical expenses are available for 2017 and 2018 with a 7.5% of AGI limitation.

For divorce and separation agreements entered into after 2018, alimony is not deductible nor is the receipt taxable. Existing agreement can be modified after 2018 to take into account the new provisions.

The individual mandate from the Affordable Care Act is permanently repealed 2019 and later.

Alternative minimum tax for corporations is repealed. The individual AMT has increased exemptions for the years beginning after 2018 and ending at December 31, 2025.

Expensing of acquisitions of personal property. For property placed in service after September 27, 2017 and before January 1, 2023, there is a 100% expensing. Thereafter, for the next four years, the percentage declines 20% each year until December 31, 2026 after which the percentage remains at 20%. There is also a tweaking of the definitions of eligible property. Automobiles are subject to a separate write-off schedule that allows a deduction of $10,000 for vehicles placed in service after 2017, only the first year. For year two, a deduction of $16,000; $9,600 for the third year; and $5,760 each succeeding year is allowed.

The Section 179 write-off has an expanded definition to include certain improvement to real property and is increased to $1 million after tax year 2017, with a $2.5 million acquisition threshold.

Pass-Through entities will have a special write-off of 20% (Code Section 199A) related to the active conduct of a trade or business effective for years after 2017 and before 2026. This deduction reduces taxable income NOT AGI and does not reduce the self-employment tax related to the pass-through entity income. This deduction is limited for those personal service businesses describe in IRC Section 1202(e)(3)(A). If the individual taxpayer has taxable income greater than $157,000, or on a joint return taxable income greater than $315,000, the taxpayer may lose some or all of the deduction. This deduction expires December 31, 2025.

For taxpayers planning to revoke an S election and returning to C corporation status, since the top individual rate is 37% and the corporate rate is 21%, they will have to take into account the conversion adjustments over a six-year period. During a two-year period, beginning with the date of enactment (December 22, 2017), distributions will be considered made under the S corporation rules. However, to get this provision, the shareholders on the date of enactment and the revocation date will have to be the same.

This is a lengthy piece of legislation that will require careful analysis and discussion. Each situation should stand on its own merits and practitioners should not paint every situation with the same paint brush. Be certain to do your research as this is just a summary of some of the provisions.