Transportation Bill Passes Georgia General Assembly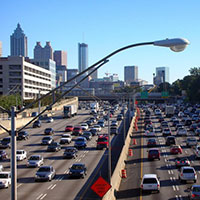 On Tuesday, March 31, 2015 (Day 39 of Georgia's Legislative Session), the Georgia General Assembly passed House Bill 170 (HB 170) as it came out of conference committee late that night. This bill adds an additional $900M to the state's transportation budget, and state legislators believe the added funding is much needed for repairs on current transportation infrastructure and work on new projects. One area not addressed in this piece of legislation is additions to MARTA funding.

Here are the highlights of HB 170.
Creates a Special Joint Committee on Revenue Structure

14 member committee comprised equally of both Senate and House members (bi-partisan)
Intent of committee is to discuss tax reform and bring forward either legislation or resolutions related to tax reform.
Any proposed tax reform legislation or resolutions will bypass the committee process and go straight to the House floor for an up or down vote. If passed, the bill or resolution would then proceed to the Senate floor for an up or down vote.
Georgia Department of Transportation will create and submit a 10 year strategic plan

This strategic plan will be submitted to house and senate transportation committees for approval.
Priority in the directing of funding in the plan will be given to maintenance, expansion, and improvement of highway infrastructure.

The definition for hybrid vehicle is deleted and alternate fueled vehicle definition is tweaked to incorporate vehicles fueled "solely" by alternate fuels.
An alternate fueled vehicle registration fee is added. Non-commercial is $200 and commercial is $300.
A heavy vehicle impact fee is added. For vehicles weighing 15,500 lbs. up to 26,000 lbs. is $50 upon registration, while vehicles over 26,000 lbs. is $100 upon registration.
The low emission vehicle tax credit is reduced to zero (from $2,500) on July 1, 2015.
The zero emission vehicle tax credit is reduced to zero (from $5,000) on July 1, 2015.
Any sales and use tax revenue derived from the sales of jet fuel shall be used for state aviation related programs.
This legislation does away with state sales taxes on gasoline, but leaves intact local taxes – Local Option Sales Taxes, Special Purpose Local Option Sales Taxes, and education SPLOSTs. However, the one percent local options sales taxes will only be collected on the cost of gasoline up to $3 per gallon for a max of three cents per gallon, per tax.
Since the state sales taxes on gasoline is eliminated and excise tax is added in its place. Under this new bill, a gallon of gas will be taxed at 26 cents per gallon, or 29 cents for diesel - this equates to roughly six cents more per gallon at the pump than what is currently being charged.
Also, new for state funding related to transportation, there will be a $5 fee assessed to anyone paying a fee to stay in the state overnight (hotels, motels, inns, etc.).
This bill contains a lot of new pieces. The biggest change is the elimination of the state sales tax on gasoline and replacing it with an excise tax. Lawmakers believe this is a more predictable tax for both the state and taxpayer. Additionally, the excise tax has to be directed to transportation needs.
It's the belief of many that this bill is long overdue and will do nothing but help the state of Georgia become more competitive when it comes to attracting new businesses and improving the economy for those of us who call Georgia our home.