2017 Legislative Update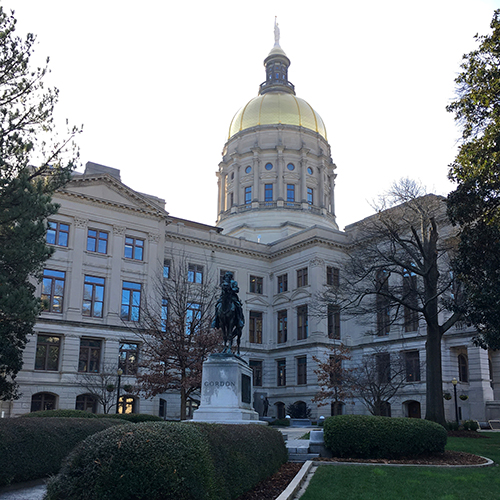 The Georgia state legislative session began on Monday, Jan. 9, 2017, the second Monday in January. Thanks to the latest adjournment resolution, we now know the major dates left for the legislative session. March 3 is "Crossover Day", the deadline for all bills to "cross" from one chamber to the other. If a bill doesn't "cross" by March 3, it will die for the remainder of the 2017 session. Sine die, the last day of session, is scheduled for Thursday, March 30.
As of Feb. 13, there were 600 House bills and resolutions while the Senate had already put forward 359 bills and resolutions. Many of the bills and resolutions in both the House and Senate will be debated furiously in the coming days, with legislators, lobbyists and interested members of the public vying for an opportunity to have their opinions heard.
Some of the 2017 legislative session bills heard so far include:
Education Reform – In the general election in November, voters disagreed with Gov. Nathan Deal on his idea of creating "opportunity school districts." However, Gov. Deal has maintained, since he took office in 2010, that improving education in Georgia is of the utmost importance. He believes that a strong education system leads to a strong economy. HB 338 relates directly to providing for a system of supports and assistance for low-performing schools identified as in the greatest need of assistance; to provide for an Education Turnaround Advisory Council; to provide for the creation of the Joint Study Committee on the Establishment of a State Accreditation Process; to revise provisions relating to contracts for strategic waivers school systems; to revise provisions relating to charters for charter systems.
Medicinal Marijuana – Georgia passed medicinal marijuana legislation back in the 2015 legislative session and allowed possession of some kinds of liquids made from cannabis, but the roughly 1,058 registered patients have no legal way to obtain the product because it can't be grown or made here. Companies or people that bring the product into Georgia are breaking federal and state laws.
Two bills have been filed this year relating to this subject:
HR 36 is a resolution that will add a ballot question to our next General election in Georgia. The ballot question brings the vote to the people of the state on whether or not to allow the production and sale of medical cannabis in Georgia.
HB 65 establishes the Low THC Oil Patient Registry, definitions, purpose, registration cards, quarterly reports, and waiver forms, so as to change provisions relating to conditions and eligibility.
The FAST Act - Fairness, Accountability, Simplification, and Transparency - Empowering Our Small Businesses to Succeed – SB 2, relating to general provisions regarding professions and businesses, and state government, respectively, so as to enhance accountability and notice requirements for agency rule making so as to reduce regulatory burdens on businesses. This bill would require professional licensing boards to have a provisional license for individuals looking to reciprocate their license to Georgia, or for individuals looking at reinstating their Georgia license. It would impact all professions regulated by the state.
Rural Hospital Tax Credits – Although this legislation was passed and signed in 2016, the credit available in 2017 was capped at $50M, and donors will only receive 70 percent of the amount contributed back as an income tax credit. The 70 percent made this tax credit not very popular with potential donors. HB 54 increases the credit allowed to 90 percent of the amount contributed and caps the maximum credit at $5,000 for individuals and $10,000 for married couples filing jointly.
Music Industry Tax Credit – HB 155 relating to the imposition, rate, and computation of and exemptions from state income taxes, so as to create an income tax credit for certain expenditures by a production company related to certain state certified musical or theatrical productions or recorded musical performances.
Jet Fuel Sales Tax Exemption – HB 145 relating to general provisions regarding the state sales and use tax, so as to change the method of charging such tax on jet fuel. Originally the bill specifically targeted flights headed out of state and originating from Hartsfield–Jackson Atlanta International Airport. With over 1 billion gallons of jet fuel pumped out of Atlanta's largest airport, the bigger airlines certainly stand to gain from this legislation. Georgia also has the 4th highest tax on the purchase of jet fuel.
Fantasy Contests Act – HB 118 relating to selling and other trade practices, so as to provide for the licensing, registration, regulation, and taxation of fantasy contest operators; to provide a short title; to provide for definitions; to provide civil penalties; to provide for rules and regulations.
Hotel/Motel Excise Tax Repeal – SB 58 relating to an excise tax on hotel and motel room rentals, so as to repeal such provision. The $5 per night/per room excise tax that was added to the Transportation Tax Bill from 2016 has been getting some attention. The bill sponsor here is looking at repealing the excise tax that was added in 2016 in its entirety. He cites a loss of business in this industry along border cities of the state.
GSCPA will continue to monitor future legislation and keep the momentum moving in the right direction. With many changes and challenges ahead, GSCPA continues to actively participate in the legislative process.
For information on legislation and representation, please contact
Don Cook
, VP, legislative affairs at 404-504-2935.