North Perimeter Chapter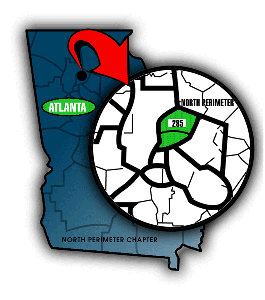 North Perimeter Chapter Counties
Meetings
The North Perimeter Chapter holds dinner meetings on the third Tuesday of the month at 5:30 p.m. at the Marriott Perimeter. Registration begins at 5 p.m. The meeting cost, including meal, is $35 for members, $15 for student members, and $40 for nonmembers.
Directions: Marriott Perimeter is located at 246 Perimeter Center Parkway, NE, Atlanta near Perimeter Mall. Heading north from Ashford-Dunwoody and I-285 go to Hammond Drive and turn left, then go to Perimeter Center Parkway, NE and turn left. Go about 2/10 of a mile, make a U-turn, the Marriott will be on the right. There is no charge for parking.
Click on a meeting to register:
(No upcoming meetings found)
Local Events
Thoroughly understand the requirements of the new Yellow Book and how they relate to the AICPA and single audit requirements. Prepare to implement the new Yellow Book in an effective and efficient manner . Learn what the Yellow Book does and does...
Let us save you time and effort in staying current through this informative update course. The purpose of this course is to enable you to excel in the constantly changing government and nonprofit environment. The course materials utilize a highly...

The Tax Cuts and Jobs Act: A Guide to the Most Sweeping Tax Reform in Over 30 Years

-

10/22/2018 - Atlanta

The Tax Cuts and Jobs Act, passed in December 2017, brought us the largest overhaul to the tax code since 1986. The widespread changes affect many aspects of individual and business taxes, beginning this year, and your clients will be coming to...